I have all ready reviewed this book on Goodreads but they only give you so much space and this book really does deserve a much more indepth review. First, I must state that people think I only read history books that relate to Jane Austen and the 19th Century. That is wholly unfair and untrue. I have read Antonio Fraser's biographies of Marie Antoinette and Louis XV (both I highly recommend), a good biography on Washington Irving that I may re-read and review on this blog at some point, as well as other non-fiction things that relate to Science (especially to Dinosaurs and Geology). Why I chose this particular book was it was recommended to me by my local librarian as being a good overall look at the Plantagenet Kings & Queens of England and I am interested in this era of history as it relates to my own family on my mother's side. Let me explain.
Wild Edric (seriously. The man has not one, but two flowers named after him!)
On my mother's side, I am a direct descendant of the Weld Family of England. They trace their roots back to Edric the Wild, an Anglo-Saxon lord who lived in Shropshire at the time of William of Normandy. He did not fight at the Battle of Hastings (1100 CE) as he was at sea (apparently he was a really good sailor). He is an interesting figure of history as he is said to have married either an Elven Maiden or Faerie Maiden, leaving behind a mortal line of heirs with the "magical" bloodline, and he is said to lead the Faerie raids to this day. He still appears before major battles (including the Crimean War and some say before WWII). So I though it would be interesting to learn about this time in history. Plus, his son left money to a Church and one of his descendants by 1300 CE was Sheriff of London, which is a major title. By 1600, they purchased the castle at Lulworth and were allowed to remain Catholic under QEI. The current Welds in England are cousins of the original line, still Catholic and friends to the Royal family still. The Welds in America are the direct descendants of the original line. So, this is why I am interested. Plus the whole Elvish blood is supposed to be the reason why the Welds favor education (they have always donated to the Jesuits and to libraries), they have been painters, writers, poets, scholars, and priests. One writers, Agnes Weld, is niece to Alfred, Lord Tennyson (her mother's sister married the esteemed poet, so I am related to the poet by marriage!). Tuesday Weld is a relation (but isn't very nice). Basically, the Welds are tied up with history and I am fascinated by it. So I try to learn more about the world in which they grew from being Anglo-Saxon lords to prominent leaders.
Lulworth Castle in Dorset. Now owned by the National Trust.
Anyways, back to the book. The author had put in a few maps of the UK at various times (and of France) to highlight the changing power structure. It would show the political landscape at the time of William of Normandy, then another at the time of the fighting between King Stephen and Emperor Matilda. I believe another showed it towards the time of Edward I or Edward II (I don't have the book on me, so I cannot verify this). Regardless, it was a nice way of showing how the powers shifted and the the control of certain areas (especially territories in France) shifted from English to French control. He also wisely included a few very simple genealogical charts, which where helpful. However, I do wish he had included the same for the French royal monarchs instead of just a list of names and the family line. Only because there was so much intermarrying between the French, English, and other royal families it would have been much easier for me (and probably for others) to see charts for the French monarchs as well since he does talk about them quiet a lot.
This is not quite what his looked like, but you get the general idea. This one is actually more detailed.
One issue I had was he did spend time discussing Henry II and his loss of an heir, and setting up his daughter as heir with her =marriage to Geoffrey Plantagenet. I don't mind as this is important, but he spends a few chapters setting up the background to the family and then ends the book by stating that the family line ended with Richard II being replaced by Henry IV. This is inaccurate. Henry IV, or as he was known before becoming king, Henry Boingbrooke, is the son and heir to John of Gaunt. Gaunt is son to Edward II and after the death of the Heir, the Black Prince, John had every right to be King (or even Regent) as his nephew was too young to be crowned. He didn't take the throne, even though it was his right. He and his son supported Richard II. Richard, on the other hand, stripped Henry of his inheritance the moment his father died, having been exiled by Richard on a BS pretext (the author explains it and it was complete BS). Richard was, quite frankly, a madman and highly unsuitable to be King. For the author to state that once Richard was removed, that was the end of the Plantagents is blatantly false.
Oh look, more Plantagent family tree, which was missing from the book.
Because if the family had ended, as the author claimed, then his assertion that Henry VII then killed off any potential Plantagenet heirs to his throne is then a contradictory statement. I wonder why his editor didn't catch that. I certainly did and it should have been caught. So, the book ends with Richard II being removed from the throne, Henry IV being crowned and nothing else. No mention of Henry IV, Henry V nor Henry VI. All Plantangent Kings. All who should have been mentioned in this book. The War of the Roses (which deal with Richard III and the fight for succession and the rise of the Tudors after the death of Henry VI) should be done in a separate book. That is a wholly complex and fascinating subject on it's own. And the author is said to be working on such a book. Oddly enough, he calls Richard III a Plantagenet king on his website. Somehow, Gaunt's line (Lancaster) is not Plantagenet, but the York line is? Both are direct decedents of Edward II, so I am very confused as to what he considers part of the line or not.
Plantagentets
Henry IV-Not Plantagenet (?)
Henry V-Not Plantagenet (?)
Henry VI- Not Plantagenet (?)
Richard III-Plantagenent
Yeah, I had to use the images for Henry VI, Henry V, and Henry VI from the Hollow Crown series. It was too good to pass up! But it does make you wonder why many historians do consider the Lancaster line to not be part of the Plantagenet legacy, but then do state the York line is. Could it be part of Tudor propaganda that has trickled down all these years? After all, Henry V's widow and mother of Henry VI married Owen Tudor and had a son, Edmund. His son, Henry Tudor then became Henry VII who married into the Plantagenet line by marrying Elizabeth of York. Did the Tudors, since they did try to wipe out any potential direct Plantagenet heirs after this, try to think more highly of the Lancasters because of that connection through the marriage of Catherine Valois to Owen Tudor? Sort of like greatness by proxy? I can understand this as I do feel tickled knowing a relation had Lord Tennyson as an uncle (thinking that would be really cool), but she was also a writer and how unworthy that must have made her feel as well, to be compared to such greatness (poor Agnes!). Shakespeare seemed to help with this propaganda, after all, considering Richard III is portrayed as a villian in the play, when in real life he was a decent King, loved his wife and people, and tried to do his best. His brother was married twice to two different women, making his children illegitimate. His brother was an idiot. then when you look at Henry IV and Henry V (the Shakespeare plays), the Lancasters are portrayed with such depth, such dignity; they are no villains. So, yes, propaganda seems to still be at play here.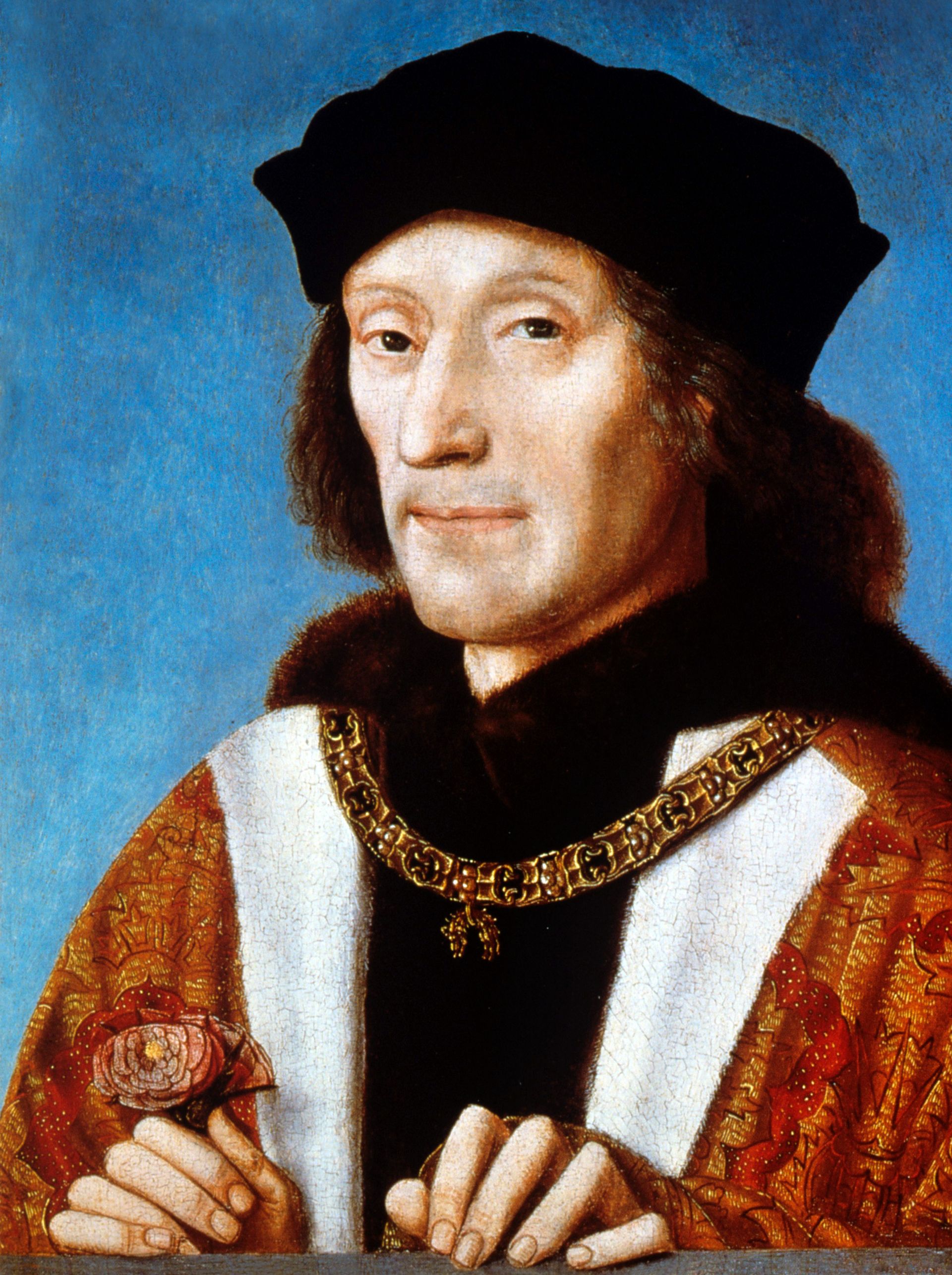 Henry VII, First Tudor King
So, what does this mean? This means I should try and see if there are other similar books that may have a broader and better overview of this time period. Not that this is a bad book. It was very well written and very engaging. I can see myself finding it used on-line and purchasing it sometime in the future because it did have some very good, well researched chapters. I just think the author was too quick to state they were no Plantagenets after Richard II, then state Henry VII killed off other claimants to the throne and mention Richard III being a Plantagenet King (especially since he was king AFTER Henry IV).  I do recommend this book, but read it with caution knowing the author has played into Tudor propaganda, which is sad considering this was published int he 21st Century and we should be over Tudor propaganda at this point in time.
Agnes Grace Weld (1849-1915)