There's this misconception that prior to the Victorian Era, people didn't bathe. I myself am guilty of this false reasoning as I recall, at the tender age of 12, writing down in a notebook that "people smelled" when I started my journey of researching the 19th Century. In my current notebook (I occasionally rewrite everything with updated notes and information), I have kept the ubiquitous "people smelled" line to remind myself not only of how far I have come, but just how easily we can be led to the wrong conclusion. Yes, people smelled prior to the Victorian Era. In fact, people still smell today (it is, after all, one of the five senses). Of course, I am being a tad silly and what we truly mean by "smell" is bad odors.
As the above photo shows, people during the Georgian & Regency Era did have rooms solely devoted to the art of bathing and maintaining hygiene. So it IS a fault (clearly) to believe people did not clean themselves. A majority of this, I feel, comes from adaptations (both TV & Film) of period pieces. Especially films of my believed Classic Era were they showed Kings & Queens arguing about bathing more than once a year (I kid you not). So little of them show bathing, we tend to have this blinded perception of people being utterly filthy. I distinctly recall having professors inform us that the use of incense in Catholic services was done because people smelled. This may be true for those who were poor and couldn't bathe on daily basis, but the use of incense for religious reasons is as old as religion itself. So maybe, just maybe, the Catholic Church was using incense because it's kind of the norm. Another example is the concept of indoor toilets. Many people accept that they had ancestors who used chamber pots. In fact, chamber pots are a very common thing one finds in modern period romance novels (I myself reference it once or twice-it seems very hard to not mention them). And we know that they did exist and were used. Yet, indoor toilets (yes, you read that correctly) have existed for hundreds of years and predate our modern bathrooms.
The Garderobe is a fairly basic indoor toilet. A hole leads to a pit where the waste is collected and people do rake it (and remove it as needed). Yes, dear reader, there were people who's job was literally shit and piss. This is really no different from campsites that have outhouses (yes, they still exist), to people who have a self-contained septic system in their yard. Yes, chamber pots (and other such devices) were used for things such as emergencies, invalids, and convenience, yet we must stop with the nonsense that they did their business out in the open. Of course, when traveling, one had no choice BUT even then, there was an attempt at modesty and privacy.
Now,what does this have to do with my week long shower-less regime? The bathroom was undergoing a renovation (new tiling) and that meant no access to the tub and shower for about a week. I am not someone who can go without bathing for very long (unless I absolutely must due to being hospitalized or very ill), so I decided it might be nice to try my had at bathing Regency style in a way. The first day, I used a bucket of warm water, a washcloth, and basically sponged myself off. I must also state I had the day off, so I wasn't concerned with my hair (though I did run the washcloth through it as well). Did I feel clean? Well, yes and no. I can inform you that I did feel refreshed and less grimy, but I did not feel as clean as I normally would.
Now, I am not so fortunate as to afford to use Serves porcelain in my experiment. My basin was a nice, gray plastic bucket. My pitcher was an old plastic cup measuring utensil. My washcloth, I felt, was at least an attempt at the homespun feeling as it was a crocheted one. Soap was some liquid Ivory (meat for bathing, not the dish one). Not feeling quite so refreshed from just the quick sponging off, I decided to up the experience by using both hot and cold water. I donned a bathing suit, went outside, and rinsed off with warm water. Washed and rinsed with cold water (a la hose). Washed and rinsed my hair with the hose, then dumped the rest of the warm water over myself. It felt like camping, in a weird way and I did feel fairly clean. Also, cold. Was this closer to how Jane Austen must have bathed? Well, perhaps.
Showers (well, showering), has existed since forever. Ancient Egyptians and Mesopotamians had indoor bathing rooms where servants would "shower" them with jugs of water. Ancient Greeks were the first to have public showering rooms (look up the Ancient Greek City of Pergamum). The Romans, of course, followed suit with their own bath houses as well. Yet what we would consider the runner up to the modern shower was patented in 1767 by Englishman William Feetham ( stove maker) and featured a hand pump. Around 1810, a much more "modern" version emerged and as to who invented it, it's hard to say as there are disputes.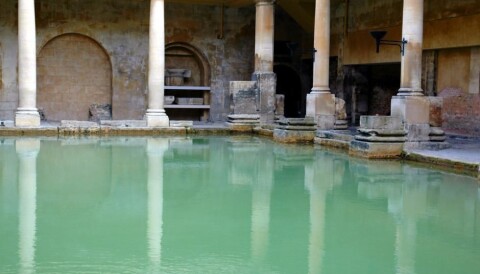 Now, my few days of donning a bathing suit and bathing outdoors was no where as elaborate as using the 1810 Shower, but it did feel closer to what Austen herself must have been used to. Not to say that she used a contraption like that everyday. In fact, she may have never used one. Yet it is possible that she did do something similar to what I had done in my quasi-attempt at cleanliness. Now, I must admit that once the tiling was done, I was told I could use the tub, but not the shower and could use the hot water faucet again. Dear reader, I felt like I was n Heaven!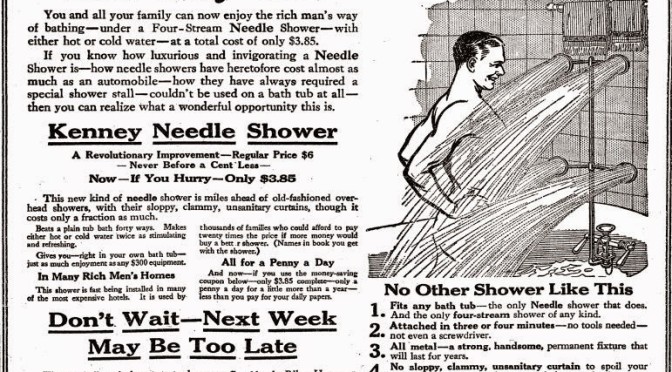 I felt so much cleaner sitting in the tub, using the hot water as needed to bathe (and shave my legs). I felt my hair got much cleaner not having to be blasted by the cold needle spray of the hose. Or at least, I felt warmer, hence, I felt cleaner. Now the new shower head is not as elaborate as the Kennedy Needle model, but it does a decent job. But I have to admit that I felt more understanding of what it must have been like for Austen (or anyone living before the 20th Century) to bathe.
Bathing (or the ability to bathe) is a convenience we take for granted in our modern society. Bathing requires access to clean water, the ability to heat said water, soap (or similar cleaning items), not to mention time and means to do so. For my part, knowing what I know about the time it took to heat water up, to carry it, etc, it's most likely Austen did a full bath (like in a tub) once a week but sponged off daily. She may have even sponged off more than once a day. I can see any genteel lady sponging off before dressing for dinner or before a ball. I can definitely see any person doing so after riding a horse. Hair washing probably didn't occur more than once a week. There are people today who don't wash their hair on a daily basis, so it should come as no surprise to think Jane didn't do so. Hair washing probably took more time and effort than washing the grime off of one's body. After all, they didn't have our modern shampoos, conditioners, hair dryers, and towels.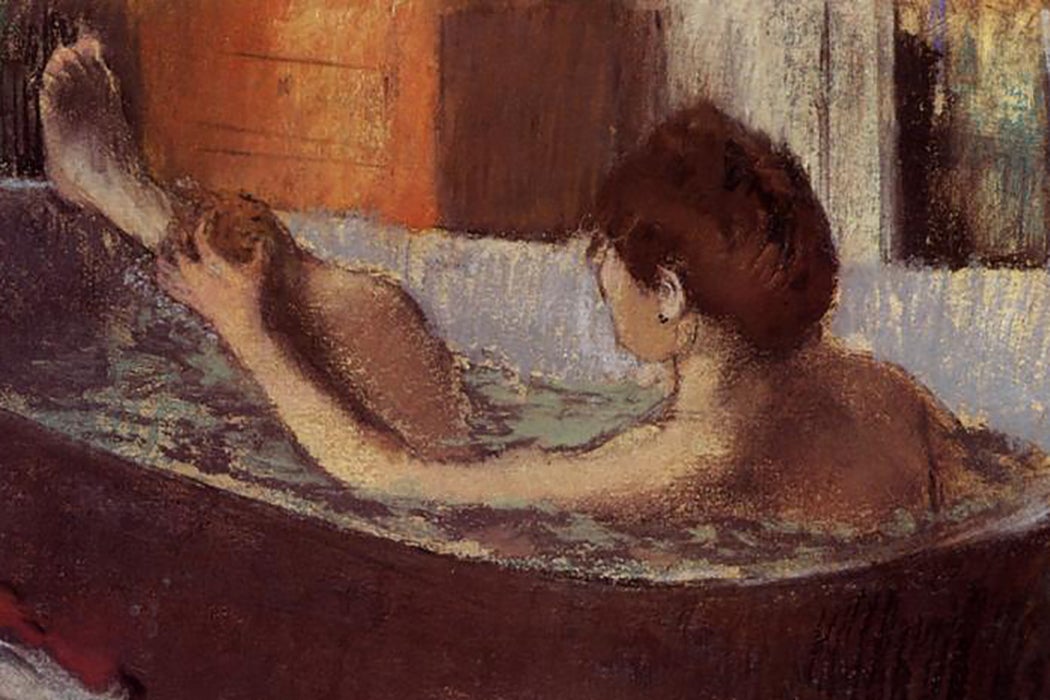 I imagine for most people, bathing was closer to Degas painting than anything else. In fact, for most people around the world, it's probably how they bathe as modern plumbing does not exist everywhere and probably never will. And that's the most important item I want everyone to take away from this posting. People have, for centuries, found a way to bathe. Whether it meant going to the pond, river, ocean, waterfall, or using a small pitcher or water, people have always found a way to keep themselves clean. Bathing is not this foreign concept nor is it a modern one. It's clear period films and shows have done us a disservice by not showing us the daily habits of people. By not showing us, we've been taught to think of our ancient ancestors as these dirty, smelly, filthy bunch when in fact, it's all a lie.
Now, I'm not going to lie. I would never trade my modern shower and toilet for what Austen had. I thoroughly enjoy being able to have hot water on demand. I completely rejoice that my waste is flushed away and no one has to rake it. I am very much at ease in our modern bathroom. Now, that doesn't mean I wouldn't mind having a nice claw foot bathtub and a stand alone shower someday (who wouldn't). I may even want to indulge in trying a Kennedy Needle Special ;P! But in all seriousness, what I have discovered, about myself primarily, is that when it comes to bathing, we all find a way that suits each of us. I have showered outdoors. I have used an outhouse. Yes, it's weird but it's only weird because it's not part of our daily lives anymore (for the most part). For some, outhouses and outdoor bathing is still the norm and there is no shame in this. So yes, Kevin Costner showering under a waterfall in Prince of Thieves IS accurate. Colin Firth jumping into a pond after riding a horse is perfectly acceptable. Kirsten Dunst being sponged off in Marie Antoinette every morning is actually historically accurate. And that's kind of fun to know.