I, stupidly, checked my comments recently and approved (yes, I can approve or trash comments and mostly I approve them-even the hate filled ones) a commentary from someone stating that they find my Mary Anning post to be racist and anti-Queer because I didn't like how the filmmaker made Mary Anning a lesbian. Well, I didn't like the representation because it was poorly written and just historically inaccurate on too many levels. But, to show that I DO actually understand Queer History, I have been compiling, and working on, blog posts showing history we need to be aware of.
For today's awesome look at Queer History, let's delve into the Macaroni Scandal of 1772 (and no, this ain't cheddar).
A Macaroni (sometimes spelled Maccaroni) is not the infamous Blue Box we know associate the word with. If you are familiar with the term dandy, then this was what a dandy was called prior to the 1800s. If you don't know what a dandy is, then the most current modern equivalent would probably be metrosexual. Macaronis were effeminate (often outlandishly so) aristocratic or bourgeoisie men who would mix English and Latin together when talking (often called Macaronic Langauge). They were the extreme influencers of their time, but existed on the fringes of Society. They dressed in ways that skewed feminine and masculine ideals, they exhibited behaviors seen as being effeminate, though there is evidence of the style and way of living as being more gender neutral: "There is indeed a kind of animal, neither male nor female, a thing of the neuter gender, lately [1770] started up among us. It is called a macaroni. It talks without meaning, it smiles without pleasantry, it eats without appetite, it rides without exercise, it wenches without passion" (quoted from the Oxford Magazine in 1770 and fond in Shipley's article from 1984). And while we (historians and Austen aficionados) tend to think of Macaronis as being queer (i.e. homosexuals), perhaps the truth was they also had a range within themselves, having those who were masculine at one end, feminine at the other, and these neutrals in the middle (the Macaroni Rainbow, as it were). I myself had no idea there could be anything other than the effeminate Macaroni before researching this.
If you have ever attended school in America, at some point you may have sung "Yankee Doodle" and probably never thought about the line bout the feather in the cap an the word Macaroni. In reality, the song is stating, in a very funny way, that the Colonists lived in such a backwater area of the world, the thought of adding a mere feather to one's hat made the person a "Macaroni." So, it's funny, but in a way that we don't quite understand in today's world. It's a part of our history that we have forgotten, sadly, because it's important to Queer History more than anything else. Side note, I have discovered that the tune to Yankee Doodle possibly goes back to the 14th-16th C (or even earlier) and the song itself is the State song of Connecticut (I suspect this will end up on an episode of Jeopardy or has already made an appearance). Peter McNeil, who studies fashion an design, was quoted in Studies in Ephemera, that the Macaroni Sub-Culture could be seen as a precursor the the Molly Sub-Culture, which then morphed into Victorian Gay Culture, and is part of the evolution of the LGTBQ+ community (Past & Present). Dear Reader, such insight blew my mind. Molly Culture is something I will be discussing in the near future, but knowing there was an earlier culture? Incredible! And if you think Macaroni culture was just a passing phase, Oliver Goldsmith mentions it in his 1773 play, She Stoops to Conquer, which makes his play contemporary to the scandal. Ah yes, the scandal.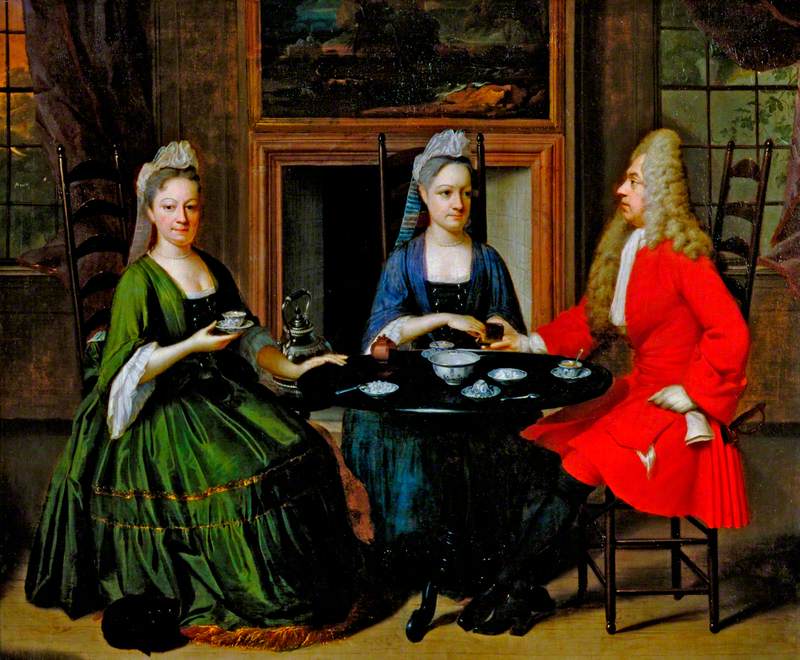 1772 was not a good year for Captain Robert Jones. Jones was convicted of Sodomy in July 1772 in the Old Bailey (well-known Court) and sentenced to hang. Pedophilia as something that was, perhaps, not seen as a crime in those days because the person Jones had sex with was a 13 year old boy. A boy, Francis Henry Hay, who from his testimony, was groomed and had been "readied" for sex. The age of consent for males was 14 at this time, so if the child had been 14, he would have been convicted for Sodomy as well. Now, this is the shocking part, Robert ones was given a Royal Pardon in August that same year. George III was not "mad" at this time in his reign, so he knowingly and willingly pardoned a person who raped a child. Scandalous, is it not? So, what makes this something we should know about? Well, firstly, that Sodomy was considered a crime prior to Oscar Wilde (for some reason, people think it was made a crime at that time in history, when it predates Wilde by over 100 years). Also, to acknowledge homosexuals did exist in Society, at all levels of Society, and have for hundreds and thousands of years. Jones was most likely given a Royal Pardon because he was so well-liked by Society (sad, but true). Jones petitioned and was granted a stay of execution, which equates to a pardon, with the understanding he had to exile himself from England. He was a lieutenant in the British Army, but seemed to have been called "Captain" as a sort of nickname (perhaps one he gave himself). Jones was popular for writing two books. The first on figure skating that went thorough several printings in 1772 and was very, very popular. He also wrote a book on fireworks that was published in 1765. Both books helped make such things acceptable and popular outdoor forms of entertainment. Ice skating had been around for years prior to Jones' book, but his was the first known book on figure skating, with details on how to do maneuvers like the Flying Mercury.
It seemed Robert was also very well-known for his costuming choices in masquerades and often written about in gossip news-sheets and mentions in letters (and diaries). So, his trial, and the after effects, would have been well-documented because he was such a pubic figure, which is a boon for us. He exiled himself to the South of France, where he live with another young boy (and yes, it was written that this boy & lover was lovely, which makes me sick). Now, you may ask, why should we talk about this guy? Well, first because this was very much a public trial. This was OJ Simpson type of news media coverage. For a subculture, the Macaronis, were under extreme scrutiny because of the disgusting actions of Robert Jones. It must have been devastating to try and live at a time when knowledge that one could be executed for being gay is ever present. As for the pedophilia, it is a disgusting thing to state, but there is still this belief that having sex with a virgin (male or female) can cures diseases. Back in the 17th Century, men with syphilis would often rape boys and girls, trying to cure their own disease, but managed to infect young children, who died from it. Today, men with HIV & AIDS continue to rape children thinking a virgin will cure them of the disease. I do sometimes wonder if some of the pedophilia I have come across in regards to homosexuality, could possibly be linked to this mindset. Then again, I kind of want them to be gutted publicly for the harm they caused.
Now, you may ask, was Jones the only scandal to take place in 1772? No, he wasn't but he is the most well known. The second one is Samuel Drybutter. Poor Samuel lived life as an open gay man in the 18th Century. Probably not the wisest choice to make. He has a well documented case history of brushes with the law, primarily dealing with his selling of luxury items and accusations of theft, fraud, etc. But, what is most interesting, is starting in 1770, he is being charged and convicted of solicitation of men for sex in St. James' Park. Drybutter is a very repeat offender in this area. From 1770 until about 1781, there are at least two arrests per year regarding Samuel and his attempt to pick up men. A few of them, unfortunately, are also of young men (possibly boys), which considering most of his interactions are with adult men, one does wonder if seeking young men (or boys) was his belief in the syphilis (or another STD) cure, or if he was also a pedophile. Drybutter notoriously allowed Jones to stay with him after the pardon and before Jones left for Europe. Samuel was known to be a prominent member of the Macaroni Club, meaning Society knew he was gay and had known for a long time. Samuel fled to Europe in 1781 after beaten almost to his death, dying abroad in 1787. He continued to live as an openly gay man, which really was a very difficult thing to do at this time.
1772 was also bad for us Theatre folk as Isaac Bickerstaffe had to flee England for an unknown crime (possibly sodomy). Bickerstaffe was a very popular operatic comedy writer and friend to David Garrick (yes THAT Garrick). He was known to have had a long standing affair with a male opera dancer (no hint of underage shenanigans, thank goodness), and possibly he may have been Garrick's lover. Possibly as Garrick quite adamantly distanced himself from his once close friend in 1772, even going so far as to refuse to lend the poor man money or even answer his letters. The letters, strangely enough, Garrick kept. Now, considering how difficult it was to be involved in Theatre (even now, there are myths that anyone involved in Theatre is promiscuous for some reason and if by promiscuous, you infer drinking copious amounts of caffeine), it is no wonder Garrick distanced himself from Isaac and homosexuality. Isaac was never a popular writer after he fled and lived in self-exile. He continued to write and send plays to people who could have performed them, bringing him back to his former fame and fortune. Yet that threat of sodomy (and the executions) kept him in poverty and in obscurity.
This brings us back too the concept of the Macaroni. Captain Jones, because his case was the biggest scandal in 1772, was often referred to as the Military Macaroni. Recall, earlier I mentioned Macaronis were more of a style and way of living, not a sexuality. BUT, by equating Jones WITH that lifestyle, one can see how we start to equate certain styles of dress and fashion with sexuality (fashion and sexuality have always been linked, but the concept of linking very specific ways of dressing with sexuality was not, to my current knowledge, that commonplace in previous centuries). If Macaronis tended to be more gender fluid (as in embracing aspects of both genders), then Jones did more harm to the acceptance of homosexuality in the 18th and 19th C by being associated with them. We should discuss, at the same time, how the idea of being flamboyant, or effeminate, now equated male homosexuality and how, the reverse, of being a butch or masculine, (or rough manners) must have also starting to be formed for female homosexuality. We still deal with the aftereffects of this mindset to this day. Major cosmetic companies still have trouble catering products to men because makeup is seen as effeminate, and therefore, unacceptable. If it is perfectly fine for me to have, and use, a face wash, face scrub, toner, moisturizer, and sunscreen, then is should be as acceptable for my BF to do the same (which he has 3 separate products, I am very proud to say). Even though, historically, makeup was worn primarily by men (same with lace, ribbons, bright pastels and silk stockings WITH red heeled shoes). Makeup is just makeup. It should be gender free because it was originally gender free. Ancient Egyptians of both genders wore makeup. So yes, I do blame Captain Jones for starting this division as to what each gender should adhere to. Personally, I also think the bastard should have been executed for raping a child on numerous occasions (because sexually abusing a child is never OK). And because we have no definite way of knowing when gender roles became so rigid, he is now my personal whipping post.
Because we have so little positive examples of Queer History out there, I would love a fake historical novel about a Macaroni who lived during this chaotic time and died sometime around 1830. Because it would be an interesting way of looking at what any person who wasn't straight had to be confronted with, especially when it comes to this scandalous year and the aftereffects. I am also humble enough to know that I am not the right person to write such a tale. I struggle enough as it is writing my male characters, so only writing from the perspective of one is beyond my abilities as a writer. But it is a thought, a wish, that I hope may inspire someone to write such a story.
The only modern person whom I can think of who truly embodies the whole Marconi/Dandy aesthetic, if we really want to be 18th & 19th C nitpicky here (and I am), is Zack Pinsent of Pinsent Tailoring. He is a very proud member of the LGTBQ+ community in England and when I am trying to wrap my head around how a Macaroni, or even a Regency Dandy, may have dressed, this is the guy I look to. Plus, he really helps me, who loves the fashions and dearly wants to have a few Regency Era dresses to gander about in, understand the sewing of such garments much better and the social implications they may have had. Because, Dear Reader, I am always wanting to better my own understanding of this Era that any useful source of information must be a boon. But also, I mention Zack Pinsent because I am not a gay man. I would have no idea the struggles a gay man in our time, let alone the time of Austen, many have faced. Zack is, I will gladly admit, one of the reasons for this look into Queer History and Austen (this is also why I looked into the history of people of color prior o the 20th C). Because I want to know more and do the characters I have planned to be these representations to do justice to people like Isaac Bickerstaffe, the Macaroni Set, the Mollys, the Boston Marriages.
Part 2 will be a look back at people before the 18th C (which is why it will not be so in depth), then I hope to give a glorious account of Boston Marriages, the Molly Set and Mademoiselle de Beaumont. I have already mentioned the glorious William Brown in the last Part of my Black History Month blog posts, but I many mention them again 🙂
I must also report that I have eaten Pheasant (because, research). Smells a bit like turkey, so a bit gamy meets poultry. Tastes bland, like really bland turkey. I can see why they used so many sauces back then. The cats, however, enjoyed it greatly.
Resources:
Dominic Janes (Keele Uiversity): Macaroni Scandal article for The Conversation (July 2018)
Joseph Twadell Shipley, The Origins of English Words: A Discursive Dictionary of Indo-European Roots (JHU Press) 1984:143.
Murphy, Kevin; O'Driscoll, Sally (2013). Studies in Ephemera: Text & Image in 18th C Print
richtornorton.co.uk (this is my go-to for any and all research and sexuality in the 18th C)
homohistory.com
pinsenttailoring.co.uk
heygirlmagazine.com
historic-uk.com
V&A (Victoria and Albert Museum)